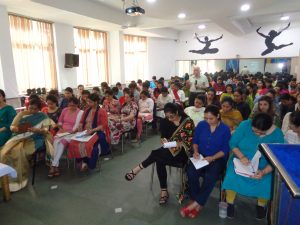 "The capacity to learn is a gift; the ability to learn is a skill; the willingness to learn is a choice."
                                                                                                                                                                      Brian Herbert
Maxfort School Rohini empowers the facilitators to emerge out as builders of the society by inculcating the much needed good values and zeal for learning in the young scholars. Saturday, 29 June 2019, was marked as a highly enriching day for all the facilitators, as the school organised an informative workshop by the eminent scholar and educationist, Dr Suraj Prakash. The revered Resource Person acquainted the participants with the dimensions of the word "teacher". He reflected that a teacher is a change agent. He enlightened everyone with the philosophy of "form, perform and transform". He focused on building a positive attitude for oneself as well as for the students. It was highlighted that the teaching fraternity should take pride for being in the noblest profession. Our skillful orator quoted that "school is a community of learners wherein students and teachers both learn from each other".
Eventually an exclusive session was organised for the Department of Science wherein Dr Suraj Prakash, who is also a highly knowledgeable Science Person with his manifold contributions in the field of Physics guided the Science faculty for teaching the subject in an innovative manner. It was told that Science should be taught by enquiry based learning. The facilitators were briefed about the difference between traditional and constructivist classroom and the advantages of a constructivist classroom. Many experiments were also shown so that the students can be inspired to develop the thinking ability and learn from the surroundings.
At the end, it turned out to be a highly motivating session for all the facilitators infusing them with a pride in themselves, value teaching as a mission and deliver their best for shaping the vision and energies of young learners.
Top School in Delhi, Best School in North Delhi, Best School In Rohini