Infrastructure That Resembles The Future Of Education
For people who enjoy reading and studying, any location might be a fantastic place to read and learn. They might say that the physical environment doesn't matter, that knowledge isn't important, and that the physical setting isn't as important as paying attention to what you're reading.
However, when we apply this reasoning to the realities of educational institutions, the empirical data is clear: having good rooms and learning environments is critical for students to obtain the required academic achievements. In other words, school environments have a direct impact on student achievement.
A decent school infrastructure, with renovated rooms, allows children and teenagers who live in rural locations to study, and it also tends to boost student and instructor attendance and interest in learning. For the same reason, improvements in school infrastructure are critical in addressing kids' access to the school system and improving their performance.
Maxfort's Sprawling Infrastructure Facilities
Children must be nurtured in an environment that is most conducive to learning. It should enable teachers to provide individual attention, especially as each child is unique and requires personal handling. Therefore, at Maxfort school, Rohini, the teacher-student ratio is 1:20 in the elementary section. Moreover, a plethora of meaningful infrastructure facilities enhance students' experiences at the school.
The architectural design of the building gives a perfect ambience of a child-friendly environment. The spacious and well-designed classrooms with sufficient technological aid suffice to the needs of the students providing them the appropriate atmosphere for learning. The campus is fully air-conditioned. Efficient housekeeping staff takes care of cleanliness and hygiene.
Laboratories are truly a master plan to provide real learning experience to students of multiple topics. Maxfort Rohini has well-equipped laboratories for different levels to reinforce theory learning ranging from biology, computer, chemistry, physics and home science. Laboratory experiences teach students how to cope with material world challenges like solving measurement error, troubleshooting equipment used for making observations & interpreting the resulting data.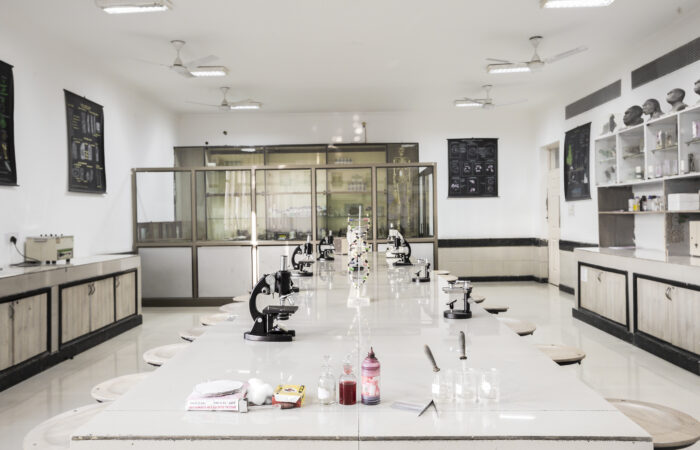 Reading empowers you! Our library, a perfect backdrop for reading and storehouse of information, hosts a plethora of poets, writers, and playwrights for students who can pick whatever intrigues them to make their reading session a delightful affair. Students get access to a large stock of books comprising fiction, encyclopaedia, subject books, comic, entertainment, and the list can go on. Develop a hobby and let it grow!
We aim at an all-round development of students by proportionally emphasising their physical development amidst academic headway by offering humongous sports facilities like basketball, lawn tennis, badminton, volleyball, skating, yoga, aerobics, table tennis, swimming, hockey, and open grounds. Our team of coaches are well-trained to make learning fun and easy. They ensure each student is equally active in one or the other sports, both indoor and outdoor.