VICTORY THY NAME IS SUCCESS
---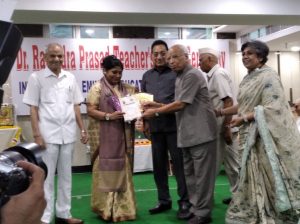 "All our dreams can come true, if we have the courage to pursue them"
– Walt Disney
Rightly said by our Late President Dr. A.P.J. Abdul Kalam, "A leader must have a vision for an organisation, passion to work for achieving the goals, curiosity to travel an unexpected path and courage to take decisions." The epitome of leadership, our respected Principal ma'am Dr Ratna Chakravarty has certainly made us proud with her multifarious achievements. First and foremost, honourable Principal ma'am was felicitated with "Dr. Rajendra Prasad Award of Eminent Educationist" in a prestigious award ceremony held on 5 September 2019.
To add feathers to her glorious achievements, ma'am was also presented with the "Principal Par Excellence Award" by IIHM on 31 August 2019.
To continue the journey of success, our mentor was also felicitated with "4th Doctor Satya Jagid Smriti Samman" by Indian Association of Mass Communication in collaboration with Panchtatva-the Environment Society of Hindu College, Delhi University on 10 August 2019.
Our leader was also honoured with "Inspiring Educators of NCR Award" by Great Rocksport Pvt Ltd on 31 July 2019.
The Head of Department (English), Ms Manju Bhatia, was also felicitated with Teacher's Day Award by IIHM.
The teachers of our school were felicitated for their commendable efforts for the superlative performance of students of Grades X and XII in the form of scoring a perfect 100 in the sessions 2017-18 and 2018-19 in special morning assembly organised on Teacher's Day i.e. 5 September 2019.
CONGRATULATIONS TO ALL THE ACHIEVERS!
========================================================================