"Yoga is the journey of the self, through the self, to the self."
– The Bhagavad Gita.
Yoga is a part of the school curriculum and is practised by the students in their weekly Yoga classes. The students of Grade IV got the opportunity to acquaint themselves about how yoga embodies unity of mind and body as an activity 'YOGA POSES' was conducted on Wednesday, 31 July 2019  in the respective gym periods to enhance their flexibility, strength, coordination, and body awareness. In this activity, the students performed and displayed some basic yoga poses such as Paschimottan Asana, Goumukh Asana, Ustra Asana, Nauka Asana etc. with the help of the fruitful guidance. The yoga facilitator demonstrated the poses and enlightened them with the significance of each pose. Thereafter, the students were assisted in doing all the yoga poses. The assessment was done on the following criteria:
Presentation
Flexibility
Perfection
Time taken
The day was observed to bring peace, harmony, happiness and success to every soul in the world.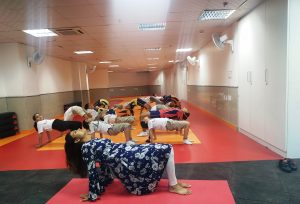 Top School in Delhi, Best School in North Delhi, Best School In Rohini