Happiness is when what you think, what you say, and what you do are in harmony.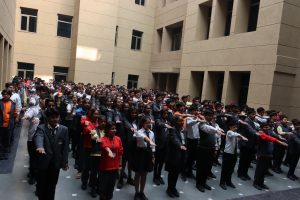 Coherence between the communities in the country and absence of friction and tension among them is known as communal harmony. In countries like India, it is very important, and a requisite for internal peace, which is essential for the progress and development of the country. Communal harmony as such, is a highly sensitive issue and cannot be soft pedaled any more in view of our traditional value, cultural heritage and secular character of our state.
India is a diverse country which is also a home to the principle of Secularism. This is the country where people from different communities and religions live in harmony and peace.
Taking the lead forward, the young Maxfortians of Class IX, presented a special assembly on Communal Peace And Harmony on 26 December, 2019.It showcased the topic through heart touching poems, a dramatization and an enlightening speech on the topic. The assembly was a great platform and was successfully presented with a great encouragement from respected Principal ma'am Dr. Ratna Chakravarty.