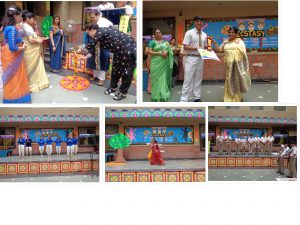 "Success is no accident. It is hard work, perseverance, learning, studying, sacrifice and most of all, love of what you are doing or learning to do."                                                              – Pele
Maxfort School, Rohini believes that the goal of education is not to increase the amount of knowledge but to create the possibilities for a child to invent and discover and to create individuals who are capable of doing new things. The wider the range of possibilities we offer the children, the more intense will be their motivation and the richer their experiences.  We endeavour  to kindle a strong desire in the talented scholars and let the flame of learning stay ignited forever. Tramping the path of success and recognising the talent of new-age learners, the school organised the Yearly Inter-School Event, "Ecstasy 2019", on Saturday, 17 August 2019 where 23 renowned schools registered their presence in the festival of creativity and innovation. The participants were thrilled with excitement to whittle their fate by being venturous and prove their mettle by giving their best in their respective categories.
The eminent Chief Guest for the day was Pandit Prateek Chaudhary ji, a brilliant musician, one of the most outstanding Sitar players of our country. The auspicious lamp-lighting ceremony was held in order to usher with a platonic beginning. It was followed by Saraswati Vandana that proved serene to the assemblage. All the spectators were overwhelmed to view the mesmerising portray of footsteps in the dance presentation – Ganesha Vandana. Our respected Principal ma'am, Dr. Ratna Chakravarty welcomed the honoured guest and the judges of various events. She addressed the august gathering and spoke eloquently and motivated the contestants with the wise words that, "Success is an ongoing process, the more you thrive for it; the more successful you become provided you focus on yourself."  The proud moment was the felicitation of the talented Maxfortians who have brought laurels to the school with their exceptional academic performance in Classes X and XII for the academic session 2018-19. The honoured Chief Guest in his inspirational words congratulated respected Principal ma'am for the grand success of the event and appreciated the worthy efforts of the students, facilitators and the management. The highly enthusiastic and innovative categories for this magnum opus were – "Waves of India"- Ramp Show, "Unique Verse"- Mono Acting, Painting Mosaic – Painting Competition, "Swar Darpan" –Music Competition, "Shri Krishan Divya Leela" – Dance Competition, "Hasya Rang" – Hindi Rhyme Recitation and the events for the seniors (Classes XI and XII) "Exploravision", "Gabfest" and "Plan d' Affairs".
The vivacious day infused the air with a fountain of cheerfulness and gaiety. It also painted the canvas of perfection with the appreciable talent shown by the participants in various events. Eventually, award ceremony was organised to felicitate the winners. This exuberant panache replenished everyone with energy, enthusiasm and elation for many more victorious feats.
FINAL RESULT FOR ECSTASY 2019
S.No
Name of The Events
Student's Name
School Name
Position Secured
1
WAVES OF INDIA
HETANSHI
VIKAS BHARTI PUBLIC SCHOOL
1
KAVEER ARORA
BAL BHARTI, PITAMPURA
2
RAAVYA SHARMA
G.D GOENKA, SEC-22
3
 
2
UNIQUE VERSE
NYSA SURI

BAL BHARTI SCHOOL, SEC-14

1
ARZOI DHAMIJA

ST. MARKS GIRLS SR. SEC. SCHOOL
2
Daiwik Solanki

Vikas Bharti Public School, Rohini
3
 
3
HASYA RANG
LUVISH MONGA
MOUNT ABU SCHOOL
1
SHRITHI TANDON
MONTFORT SCHOOL
2
KANISHKA CHABRA
INDRAPRASTHA WORLD SCHOOL
3
 
 
4
SHRI KRISHNA DIVYA LEELA
ASHVIK AGARWAL, PRIYANSHI GOYAL
MAXFORT SCHOOL ROHINI
1
ATHARVA BHATIA, PREEVEERA SONI
INDRAPRASTHA WORLD SCHOOL

1
AADHIKA SINGHAL, MANAN JAIN
MONTFORT SCHOOL
2
 
ANVI KAKRIA

GOURISH GUPTA

BAL BHARTI PITAMPURA
3
 
 
5
THE PAINTING MOSAIC
ARSHIA GARG
MAXFORT SCHOOL ROHINI
1
SHRUTI
BAL BHARTI SCHOOL, SEC-14
1
PLAVITA
VENKTESHWAR GLOBAL SCHOOL
2
NAISHA MITTAL
MONTFORT SCHOOL
3
 
 
6
SWAR DARPAN
AYUSH SHARMA
MAXFORT SCHOOL
1
MEHA KUMAR
Vikas Bharti Public School, Rohini
1
SAAKSHI
ST. MARKS GIRLS SR. SEC. SCHOOL
2
SHREYA
N.K BAGRODIA PUBLIC SCHOOL
3
 
 
7
EXPLORAVISION
SUGATI MALHOTRA
MAXFORT SCHOOL
1
RASHI GARG
MATA JAI KAUR PUBLIC SCHOOL
1
MAADHYAM RAWAL
MONTFORT SCHOOL
2
MANYA NAGPAL
VENKTESHWAR GLOBAL SCHOOL
3
 
 
 

8

 

PLAN 'D' AFFAIRES

RAGHAV GUPTA
MAXFORT SCHOOL
1
SNEH MATTA
ST. MARKS GIRLS SR. SEC. SCHOOL
1
SHOURYA SALUJA
BAL BHARTI PITAMPURA
2
SHREYA THAKKAR
LAUREL HIGH SCHOOL
3
 
 
 
9
THE GABFEST
ARPITA SALARIA
MOUNT ABU SCHOOL
1
PUNYA MALHOTRA
BAL BHARTI PITAMPURA
2
YASHASWANI KAKKAR
MAXFORT SCHOOL ROHINI
2
BHAVYA BHALLA
ST. XAVIER SCHOOL SEC-26
3
Top School in Delhi, Best School in North Delhi, Best School In Rohini