'Alone we can do so little, together we can do so much'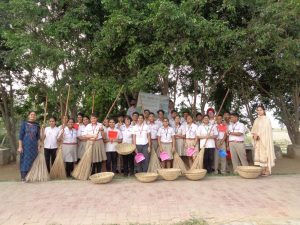 On the occasion of Mahatma Gandhi's 150th birth anniversary, Honourable Prime Minister Shri. Narendra Modi has initiated 'Swachh Bharat Campaign'. An important part of this endeavour is 'Clean Yamuna Campaign' and the Prime Minister has called upon the student community, for their wholehearted support towards this movement .
In order to pay real tribute to the legendary pioneer's dream of Clean India and taking the lead forward, our respected Principal ma'am  Dr. Ratna Chakravarty took initiative to provide a platform to a group of 30 students of Class XI in the 'Swachh Yamuna Campaign' at Sonia Vihar Ghat, Delhi in association with  Indraprastha School Sahodaya and Delhi Sahodaya Schools on 1 October 2019 as this phenomenal task to clean Yamuna shall develop a better appreciation of Gandhi Ji and his ideals in the hearts and minds of the people. Cleanliness is very important in our life from all the aspects. With this aim to imbibe social responsibilities, all the students took pledge to spread the message of 'Clean India, Green India' with the Chief Guest Manoj Tiwari ji ,an urgent need to keep the surroundings clean. His speech was really motivating where he shared how India is in the need of such small initiatives to carry out big reforms. The students cleaned the allotted areas near the ghat with great enthusiasm by using of brooms, bins and scoops,. Children were also provided with tricolour caps and gloves. A sense of responsibility has been evoked among the people through this act. It was a great learning experience to clean Yamuna River and take serious measures to stop water pollution.