"Learning should be a joy and full of excitement. It is life's greatest adventure; it is an illustrated excursion into the minds of the noble and the learned."       Taylor Caldwell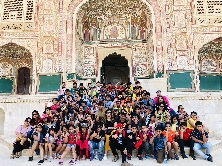 An educational 'Trip to Jaipur' was organised from 25 March 2019 to 27 March 2019 that will forever remain etched in the minds of the explorers of classes III- V of Maxfort School, Rohini.
Sixty nine students along with seven facilitators were all set on 25 March 2019 (Day 1) at 4: 30 am to visit the splendid and historical forts of 'The Pink City – Jaipur'. The main aim was to expose the students to scenic views and sensitize them to nature.
According to the itinerary, the students arrived at Gold Palace Resort at 11:00 am after having the delicious breakfast on the way. The visit to World Trade Park and Jal Dhara was informative and ravishing. The lush greenery and the traditional Rajasthani culture as well as village setting of Chokhi Dhani left them mesmerized. The students enjoyed each and every bit of the wonderful trip and marvelled at the exquisite and serene beauty of the area. Fresh, hygienic and delicious food was provided as dinner.
On 26 March 2019 (Day 2), the children spent some time for shopping for their family. The visit to majestic forts like Hawa Mahal, City Palace, panoramic view of Jal Mahal and Amber Fortwas thrilling and exciting as the students felt enlightened and enriched after having acquainted with the fruitful information about the kings and the kingdom. In the evening, a wide range of activities were planned for them. They were deliriously happy to rock the stage and dance merrily on light music with the evening snacks. The day concluded with sumptuous dinner and overnight stay with sweet memories.
The highlight of the trip and the surprise was 'Pool Party' on 27 March 2019 (Day 3) that enthralled the students as they felt excited to beat the heat of the sun with cool splashing water.
Children enjoyed the trip throughout and learned several essential qualities like leadership, importance of time schedule and coordination.
Indeed, it was a great learning experience for not only the students but facilitators as well, who accompanied them. The parents appreciated and felt gratified for 24×7 care and support of the facilitators provided to the students as well as requested to arrange for such more superlative trips in future for the holistic development of their children.
On the whole, the fun-filled learning experiences like cherishing in groups, exploring new places, discussing with friends, learning through hands-on experience, sharing and caring while creating episodic memories were all a part of this delightful trip.
Top School in Delhi, Best School in North Delhi, Best School In Rohini