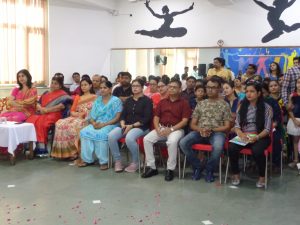 "The desire to create is one of the deepest yearnings of the human soul."
                                                                                                                                    Dieter F. Uchtdorf
Maxfort School, Rohini celebrated the amalgamation of imagination and originality of our talented and adept students in the form of momentous occasion 'EXPOSITION 2019'on Saturday, 20 July 2019. It focused on ingraining a scientific, creative and healthy attitude in our young students to make them comprehend the interdependence of science, technology and society. The exposition seeks to engage children and teachers to synergize experiences and motivate each other to design and develop something novel. Each corridor became a splurge of emotions as budding students blissfully enthralled the visitors to stop by and visit their classrooms.
The propitious day commenced with the traditional lamp lighting ceremony, the perfect tribute to the Goddess of knowledge-Maa Saraswati. Our respected Principal Ma'am, Dr. Ratna Chakravarty, encouraged the students for putting their best throughout the preparation time. The students presented a melodious song and splendid dance presentation. The valued audience was welcomed to explore the magnum opus of creativity in various classes from Pre-school- VIII.
A myriad of ideas was displayed according to the themes such as Rumble in the Jungle, All About Seasons, Aakar Parivaar, Ease your Life, Mathseeds,  Life after 2030, Health and Hygiene, Harmonious 5, Splendour of Indian Brands  and Healthy India – Progressive India.
The sub themes were the comprehensive part of the main themes that provided a meaningful insight to build holistic personalities with an inquisitiveness to explore, create and innovate. The various topics were represented via models, projects, schemes and fun filled games. Students presented wonderful skits on their topics and displayed working models and charts to promote awareness about the same.
Indeed, it was an aura of being hypnotised with so many lined up scintillating visual delicacies. At the end, the wonderful gathering along with the respected Principal ma'am appreciated the spectacular efforts of the proficient Maxfortians.
Top School in Delhi, Best School in North Delhi, Best School In Rohini