"See for the highest,
 Aim at the highest,
  And you shall reach the highest."
   -Swami Vivekananda
Maxfort School, Rohini is the happy abode for children discovering their innate potential, practicing their capabilities, and emerging as empowered young learners. The grand creative extravaganza, Annual Inter School Event-Ecstasy 2022 organised on Saturday, 27 August 2022, provided the perfect platform to the students to realise their dreams of creativity and calibre. The myriad hue of multifarious events of Ecstasy 2022 gave way to experiential, competency-based and metacognitive learning.
The inauguration ceremony was a thumping success. It was an exuberant blend of the virtual and human resources. 31 eminent schools participated in this much-awaited brilliance.  The grand day started with a pious lamp-lighting ceremony. It was followed by Ganesha Vandana that proved serene to the virtual assemblage.
Our respected Principal ma'am, Dr. Ratna Chakravarty welcomed the honoured Chief Guest, revered Principals of the participating schools, and the participants. Honourable Principal ma'am welcomed the revered Chief Guest Sadhvi Pragya Bharti ji with a token of love and appreciation. Sadhvi Pragya Bharti ji is an excellent speaker, a great motivation, a dynamic personality with an aura of positivity and grace. She is a life coach, spiritual teacher, holistic wellness expert and recipient of many prestigious awards like "Uttarakhand Ratan Award", "Bharat Gaurav Samman" and many others. Esteemed Chief Guest charmed this special morning of splendor with her gracious words. She enlightened the gathering with the magnificence of Lord Krishna's sayings and blessings in these contemporary times.
Respected Principal ma'am motivated the participants with her inspirational words of motivation to give their best and enjoy the bliss of their performance. Respected Principal ma'am congratulated the talented Maxfortians who have brought laurels to the school with their exceptional academic performance in Classes X and XII for the academic session 2021-22. The highly innovative and interesting categories for this creative grandeur were – For Pre-School-Pre-Primary "Teller of Tales", Classes I-II "Dress to Impress", for Classes III- IV "Claytivity", for Classes V – VI "Bal Kavi Sammelan", for Classes VII– VIII "Jhanak", for Classes IX- X "Swararpan" for Classes XI – XII (Science Stream) "Toy Tech" (Commerce Stream) "The Stage Amazia" and (Humanities Stream) "Peroration" (Declamation).
The vivacious day instilled the air full of beams with optimism. It also painted the canvas of perfection with the appreciable talent shown by the participants in various events. Eventually, this excellency and exuberance replenished everyone with vivacity and vibrance for many more victorious feats.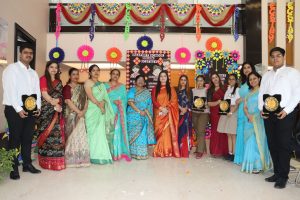 11